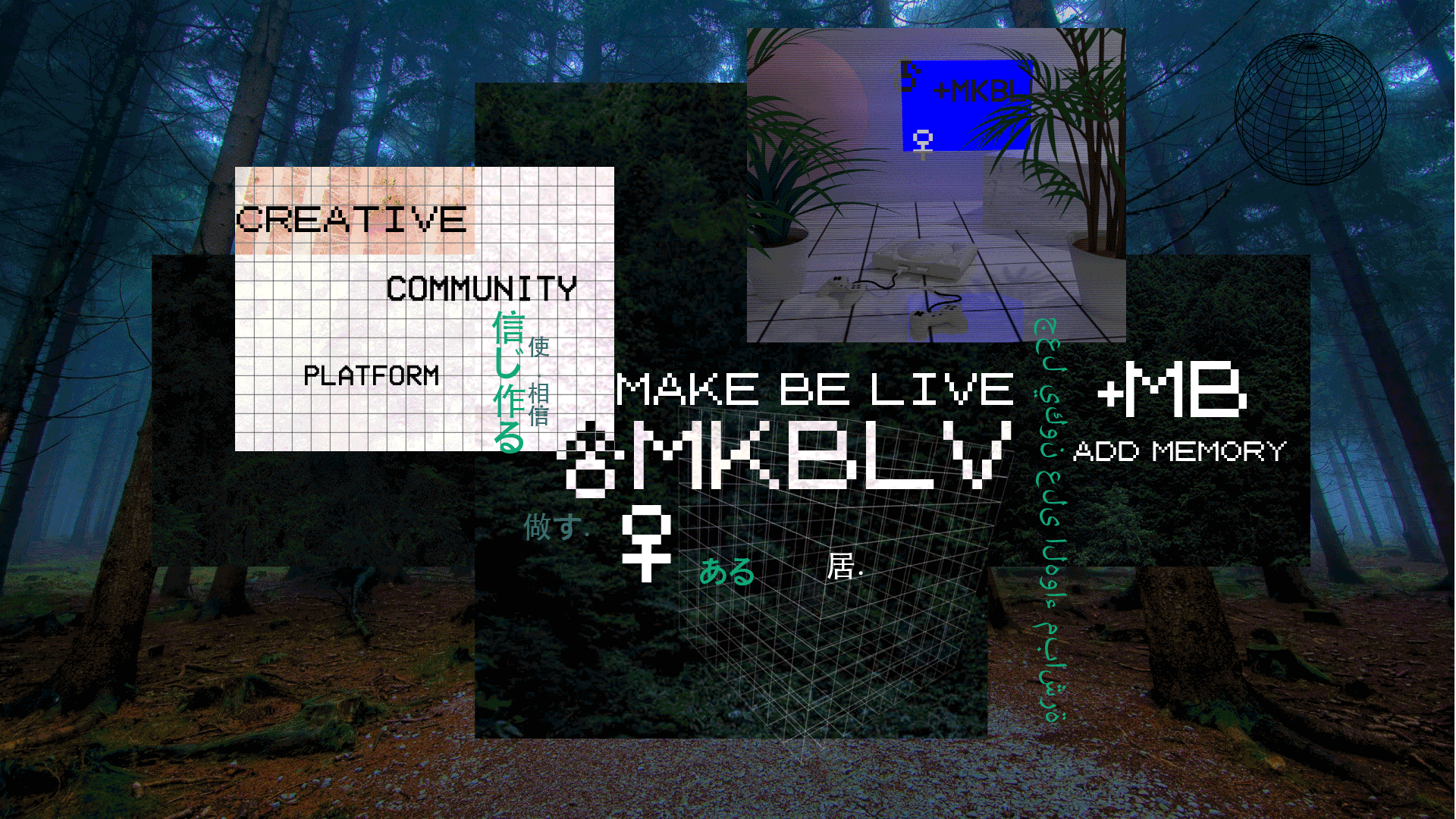 Q — How do you write, spell, or say MKBLV?
A — MKBLV phonetically spelled and spoken: /ˈmeIk.bI'liv/
physically and digitally projected in variations of all capital letters , lower case letters, or both variations including symbols in the following styles: (separated by //)
MKBLV // +MKBLV // ♀MKBLV♂ //
// make. be. live//
make + be + live
// M∆KE // +MAKE // MAKE + BLV // MAKE.BLV//
The representation of the "+" throughout +MKBLV represents the imaginative; thoughts; creations; designs; nostalgia and influences that come before us. The cryptic "+" is a significant symbol that we embrace as we build with those that come and came. As we build a community of creatives we look forward to providing the platform, resources, and creative space that is needed to create memories and add to the imaginations of others. This is MKBLV where we all add to each others existence.
The significance of the Triangle when used is outlined below. The optional delta character (∆) represents change, we believe change is relevant since change and truth are the only true constants in life along with MKBLV artistic expressions coming from a collective consciousness and the imagination of ALL.
ATTENTION: ALL ORDERS PLEASE CHOOSE CORRECT SHIPPING ADDRESS DESTINATION/COUNTRY. IF YOU CHOOSE THE WRONG COUNTRY AND THE SHIPPING IS LOWER THAN THE REQUIRED RATE. YOUR ORDER WILL BE VOIDED AND NOT BE SHIPPED. YOU WILL BE INVOICED/BILLED FOR THE CORRECT SHIPPING RATE. WHEN THE CORRECT SHIPPING RATE IS RECIEVED YOUR ORDER WILL BE SHIPPED

Q —How long does it take for me to receive my package?
A —Once orders are received they are processed for payment. When the payment is received it can take up tp 7-10 business days to receive if the merchandise is not in stock. Delays are to be expected due to such a high volume of orders.

Q —What mail service is used to send the merchandise?

A —All orders are sent USPS 2-3 day flat rate priority.International orders are sent USPS first class shipping 2-6 weeks depending on destination country.
Q —How do the sizes run?
*A —Everything is made true to size. If you like your shirts/Hoodys to have a little room we suggest you order the larger size

Q —If there is a hold on my payment how long does it take for the payment to be realeased?
A —*All payments are processed through paypal. If the funds are not available or made thru ePayment Paypal ensures that the seller gets there money before shipment. Depending on your bank it may take up to 2-3 days before funds are realesed.

Q —When will I recieve conformation or tracking number for my order?
A —*Once the funds are debited you should recieve a receipt of payment, which means we have recieved your order. When your order has been filled and is ready for shipment you will recieve a tracking number to the email assoicated with the purchase.Your Paypal reciept is conformation that your order was receivced.Also check spam or junk email folder sometimes the payment receipt goes there.
Q —How can I carry +make..BLV in my store?
A —Email bussiness@maketo.be with your business information including the store name, website, phone number, and buyer's name.
Q —Can I contact you directly with any other questions?
A —If you still have questions, feel free to visit CONTACT US email info@maketo.be and we will get back to you with a reply within 48 hours.